APPLICATION REQUIREMENTS
Application to the CBIPS is highly selective, involving an understanding of value, willingness to participate in fast-paced, collaborative "action research," and a programmatic approach to problem-solving and thinking outside the constraints of siloed practice.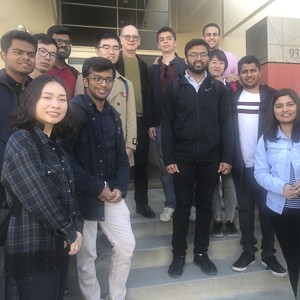 Applications require:
A brief statement about what you, as a prospective Fellow, will gain from the program.
A brief statement about what you, as a prospective Fellow, will contribute to the program.
A brief statement of what research you would like to undertake. You can select from the list of topics suggested by CBIPS or in an area in which you have particular interest.
A résumé
Link here for the CBIPS application form.
More information here.
FREQUENTLY ASKED QUESTIONS
A: The CBIPS research fellowship can count for academic credit. Fellows can take the research as an Independent Study and receive one to three credits per semester. Last year, some of the Fellows took four lecture-based classes in the fall and in the spring and did the research fellowship as an independent study. It counted as their fifth class for their fall and spring programs, allowing them to graduate in one year. 
A: The research topics, the majority of which will be done in partnership with public agencies or the private sector, as in the process of being determined. Fellows can also suggest their own specific research topic. All Fellows meet once each week throughout the semester for two hours. In addition, students working on a team project meet a second time each week for an additional hour.  Last year the social housing research group had this supplemental hour-long session with housing experts, including engineers, architects, and a Housing Authority design leader. Apart from these classroom sessions, field study to construction sites or recently completed buildings or civic infrastructure projects take place once each month. These are supplemented by week-long field study that occurs during the winter and spring breaks. The most recent one took place in London (from Monday, 1/13, through Friday, 1/17 in 2020). Based on that, during the semester, it is expected that Fellows will spend between four to six hours per week either in a field study in New York City or research meetings. The semester schedule of holidays parallels that of School and University.
A: The cost of communal food and hotel lodging is paid for by the University, along with the cost of local public transportation such as subway or bus. Airfare, individual meals and incidentals are the responsibility of the Fellow.  
A: There is no financial assistance for the Fellow in relation to tuition, room and board, or transportation in NYC. For the national and international field study, there is financial assistance as above, that is for communal food, hotel lodging and local public transportation. 
A: The duration of the program follows the academic calendar of the School and University. Preference is given to students who are interested in being a Fellow for the whole academic year and commit to participate in the international and national field studies.
A: Priority for selection to the CBIPS Fellows Program will be given to students who commit to participate in both the International and the National Field Study. Site visits and meetings with design and construction industry leaders in both the International and the National Field Study will parallel and complement the program content in New York City. Participation is not obligatory but highly recommended.